HOME > 제품소개 > Ultrasound Meaurement >
Ultrasound Cell Culture Stimulator
Ultrasound Cell Culture Stimulator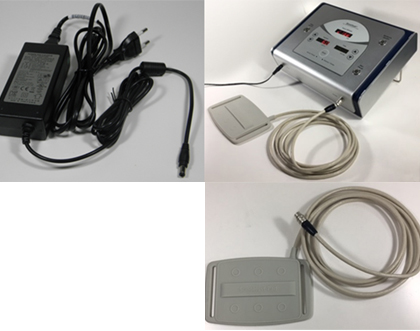 제품 구성
스위치

① Power ON/OFF : 전원 ON/OFF 선택

② Monitoring ON/OFF : Monitoring ON/OFF 선택

③ Start/Pause : 작동/정지 선택

④ Intensity Up/Down : 출력세기 Up/Down 선택

⑤ Time Up/Down : 시간 Up/Down 선택

⑥ Mode : 모드 선택(치료방법 : 이동식, 고정식
소켓

⑦ DC IN : 전원 연결 소켓

⑧ PROBE : 프로브 연결 소켓
디스플레이(화면표시)

⑨ Tissue Stiffness : 조직의 강성(경직도) 표시

⑩ Intensity : 현재 출력세기 표시

⑪ Time : 현재 남은 치료시간 표시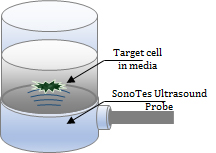 How it Works:

The ultrasound Pad is placed below the media container, which have the target cell.

The Intensity, time and the Pulse can be then adjusted as per the experimental need.
Why Sonotess for Cell stimulation:

By Sonotess you ca achieve precise control on the applied ultrasound wave.

The Transducer pad comes in different shape and size so it can be easily used for any required dish. If required, Hyemin can make and provide special shape, size and frequency dependent transducer probes too.

The ultrasound probes are covered with food grade silicone, so it can be easy washed and reused, avoiding any possibilities of contamination.