HOME > 제품소개 > Sonar System & Subsystems > Transducer >
SonoFDTl
Sono FDT:Flexural Disc Transducer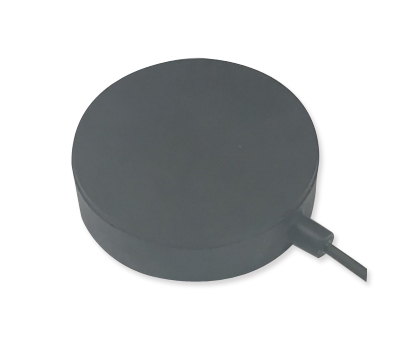 SonoFDT is latest compact Flexural disk transducer made specially for underwater applications where weight and size is major concern. Due to its salient structure, and low weight it can be easy mounted on underwater vehicles or communication points. The strong silicon covering makes its best to be used in sea water for long period of time.
제품설명
Main Feature

Flexural disc transducer

High Power Low Frequency Acoustic Source

Compact and small weight.

Horizontally omni-directional

Can be used as projector at depths of 10m or greater to ensure a sufficient amount of pressure is placed on the transducer due to the flexural motion.

Reliable, robust, high performance, low frequency transducers.
Applications

Low Frequency Sound Source

Ranging Applications

Sound Navigation

Calibration Standard
Technical Specification

| | |
| --- | --- |
| Nominal resonant frequency | 4KHz (in bending motion) |
| Integral Amplifier or Tuning Element | No |
| Receive Sensitivity @ 4KHz | -152 dB re 1V/μPa |
| Recommended receive frequency range | 2KHz ~ 10KHz |
| Maximum acoustic input@ 4KHz | + 209.5 dB re 1μPa |
| Transmit Voltage Response@ 4KHz | +121 dB re 1μPa/V at 1m |
| -3dB bandwidth | 500Hz |
| Recommended transmit frequency range | 3.0 – 5.0kHz, 8.5~10.0kHz |
| Maximum source level @ 136Hz | +181 dB re 1μPa at 1m |
| Maximum applied voltage | 1,000 Vrms |
| Horizontal beam pattern | Omni-directional +/- 1dB @ Hz |
| Vertical beam pattern | |
Mechanical Specification

| | |
| --- | --- |
| Dimensions | Outer diameter: 94mm, Height: 24.6mm |
| Minimum operating depth | 100m |
| Recommended operating depth | 50m |
| Operating temperature range | -5 to +35°C |
| Cable | 10m standard. Optional extension is available |
| Connector | Bare ends |
Mechanical Drawing
Sensitivity
Impedance
Horizontal Beam Pattern @ 4KHz